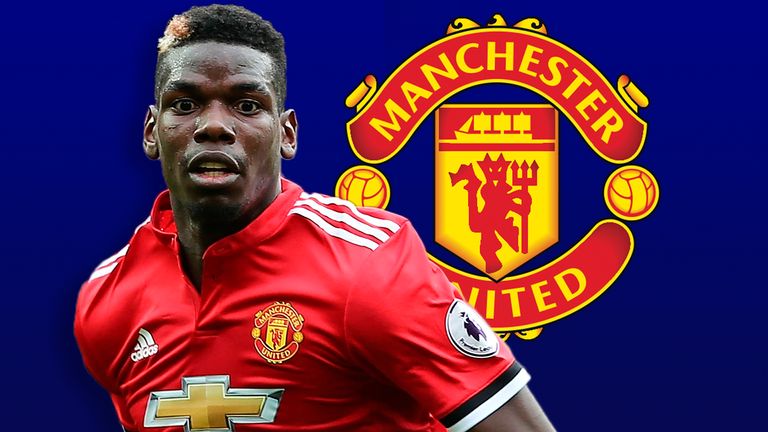 Nemanja Matic could free up Paul Pogba to enjoy a huge season at Manchester United, writes Adam Bate.
Paul Pogba returns to the Liberty Stadium on Saturday, the scene of the best Manchester United goal of his career so far. That arrowed effort last November earned Pogba third spot in the club's end-of-season awards and was seen as a glimpse of what was to come. But his late strike in last weekend's 4-0 win over West Ham was potentially far more significant.
This was Pogba unleashed.
There is a feeling within Old Trafford that the midfielder was judged too harshly last term. Five league goals and four assists told only some of the tale. There were trophies too. There was the fact that Pogba topped the list for chances created and dribbles completed, hinting at a much greater influence. Putting the package together was the challenge that remained.
"He reminded me at times of when United signed Juan Sebastian Veron," Phil Neville told Sky Sports. "He was a brilliant midfield player, one of the best in the world, but he kept chasing the ball and vacating areas. That is difficult to play with and Pogba was like that last year. Every time we watched Pogba last season it was, 'Where do you play him?'."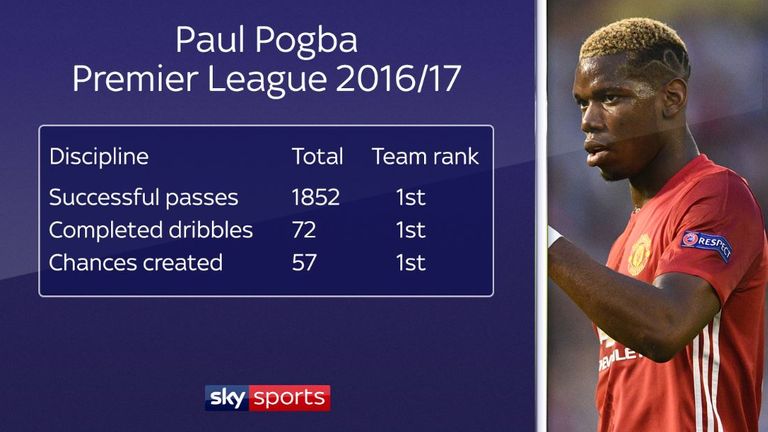 The summer arrival of Nemanja Matic was supposed to solve that particular problem. "He is a signing designed to let Pogba off the leash a little bit," said Denis Irwin. Another United great, Ryan Giggs, agreed. "I expect Pogba will improve a lot this season," said the Welshman. "The introduction of Matic is a good because it frees him up."
Forty-two per cent of Pogba's touches came in his own half last season, but with Matic and Ander Herrera in support, this year offers an opportunity to get the France international into better areas. Instead, Jose Mourinho, perhaps surprisingly, kept Pogba in his midfield two against West Ham, changing the personnel rather than the tactics. And it worked.
Matic did his job spectacularly against West Ham. He was a one-man warning light, alert to danger and intercepting passes. Matic covered 11.69 kilometres in the game – 890 metres more than anyone else on either side – and it was even his challenge that helped to set up the opening goal. It was his performance that liberated Pogba to express himself.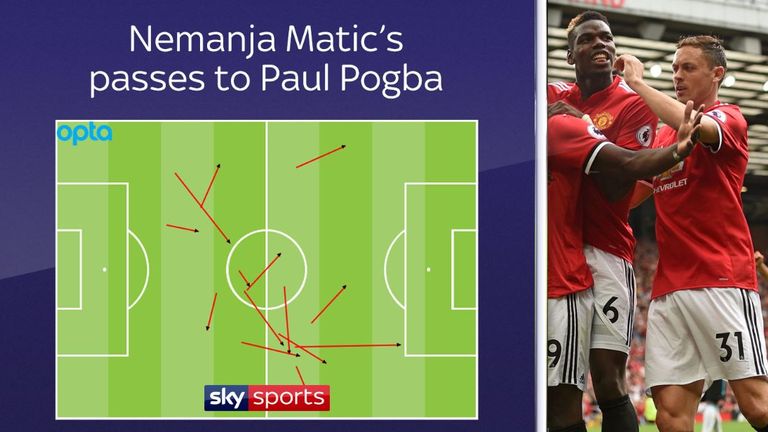 Often, it was Matic feeding the ball to his midfield partner. He found him 14 times in the match, six more times than he passed to anyone else, and Pogba did the rest. The result was that United's No 8 played more passes in the opposition half than anyone on the pitch and completed more dribbles than in all but one of his Premier League appearances last season.
The suspicion remains that Pogba is better suited to a three-man midfield. After all, even his last-minute goal against West Ham, surging onto an Anthony Martial pass, came once Marouane Fellaini had replaced Juan Mata. But Matic's commanding performance on Sunday will encourage the notion that Pogba can play from deeper with the right partner.
Interestingly, perhaps Pogba's most reckless display last season came in the home defeat to Manchester City when he had Fellaini behind him for protection. It was the same story for the 3-1 loss at Watford. In contrast, United were unbeaten in all 10 league games that Pogba started alongside Michael Carrick – the first of which being that win at Swansea.
As a result, Mourinho may feel persuaded that the Matic-Pogba partnership can be the way forward for United as they seek to find greater potency against weaker opposition at Old Trafford. And there is always the option of switching to a midfield three for potentially tougher matches. It is that possibility that still intrigues when it comes to Pogba.
Former United defender Rio Ferdinand insists that the midfielder is "best when not tied down" and draws a comparison with Frank Lampard. "Frank scored all his goals when he didn't have to look behind him, when he was in a three-man midfield," Ferdinand told the Sunday Times last year. Lampard himself spoke about that on Sky Sports in March.
"I was fortunate in the Jose Mourinho years, and years after, that it was set up to get the best out of me," said Chelsea's all-time top goalscorer when discussing Pogba's optimum position on Monday Night Football. "I had a defensive midfielder behind me and I had a great target man to play off. I was fortunate the set-up at Chelsea was always good for me."
Please follow and like us: